Sacagawea Portable Hybrid Displays
Upscale Hybrid Design — Portable Value

VK-1221 Hybrid Trade Show Booth

Add $595 for the Black Anodized Version

Large Format Tension Fabric Graphic

Arch Header with Tension Fabric Graphic

18 in Circle (Sintra) with 2" Standoffs

(2) Concave or Convex Two-Piece Wings — Sintra or Plex (9 Color Options)

(2) 5 Watt LED Lights

(1) MOD-551 Portable Roto-molded Case with Wheels and Jigging

See Example of Case with Reusable Die-cut Foam Packaging

Includes All Tension Fabric and Direct Print Graphics Shown

Excludes Monitor and Monitor Mount

Weight: Approximately 80-90 lbs Per Case

Made in the USA

Portable Assembly: Attached Knobs with Some Hex Key Connections (tool included)
The affordable Sacagawea Portable Hybrid is a contemporary display designed with lightweight engineered aluminum and vibrant tension fabric graphics. Using knob-assisted assembly, the Sacagawea sets-up quickly, typically in less than 40 minutes for a 10 ft. display. All components are individually numbered and pack in durable roto-molded cases with custom die-cut foam packaging. Options include workstations, pedestals, fabric canopies, headers, iPad accessories, and monitors.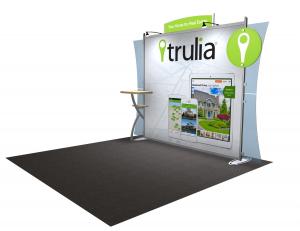 With the Sacagawea Hybrid, you can start with a 10 ft. version and expand to 20 ft. inline at any time. While there are many imitators, there's only one Sacagawea: Upscale Hybrid Design, Portable Value, High Quality Construction. Proudly Made in the USA.
Named after Sacagawea, the Shoshone woman who assisted Lewis and Clark on their 1804-1806 expedition, the system honors her indomitable spirit, resourcefulness, and peaceful presence throughout the arduous trip.